Olam Secures Landmark US$5.2 Billion Financing

as it Progresses on its Re-organisation
Corporate

Singapore
Leading global food and agri-business, Olam International Limited ("Olam'') announced today that it has secured three committed loan facilities aggregating US$5.2 billion.  
The three facilities comprise a US$1.2 billion 3-year term loan and two 18-month bridge loan facilities of US$2.0 billion each. The term loan facility will be used for general corporate purposes of the Olam Group while the bridge loan facilities will be used to facilitate Olam's Re-organisation Plan.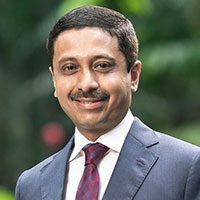 This landmark transaction gives us significant flexibility to allocate financing across our three new operating groups as part of our Reorganisation Plan. We thank our banking partners for their strong commitment and support.

The terms of the three facility agreements include provisions that allow Olam to allocate the facilities to Olam Food Ingredients ("OFI"), Olam Global Agri ("OGA") and Olam International ("OIL") operating groups post the carve-out, separation, demerger and IPO of OFI as per the Re-organisation Plan.  
The term loan and one of the bridge loan facilities has entities from OFI as Co-Borrowers, while the second bridge loan has entities from OGA and OIL as additional Co-Borrowers. All facilities are guaranteed by Olam. 
Citibank, JP Morgan Chase Bank, MUFG Bank Ltd. and The Hongkong And Shanghai Banking Corporation Limited ("HSBC") participated as Senior Mandated Lead Arrangers for the facilities. HSBC is the Facility Agent.