Olam Agri spreads the aroma of the best biryani
Rice

in Kerala
Business & Product
Calicut, Kerala
Olam Agri, the largest exporter of rice in India, brought together representatives from restaurants, hotels and biryani joints from across Calicut at a Biryani Fiesta on 5th June to experience the superior quality of a variety of rice grains. The event celebrated the long-standing love Indians have for biryani, evident from the sheer number of biryani recipes across the country - Mughlai biryani, Hyderabadi biryani and Malabar biryani, just to name a few. A visit to Kerala is incomplete without digging into scrumptious plates full of delectable biryani served all the way from Kozhikode (Calicut) to Kasargod.
In Kerala biryani is prepared as per local taste characterised by a variety of basmati grains. White sella or golden sella basmati rice are favourite among restaurants and biryani joints as it perfectly absorbs flavours of spices. Mr Madhur Chopra, Head of Marketing; Mr Vishal Singh, National Sales Manager and Mrs Jyotsna Thakur, Deputy Manager Marketing were present from Olam Agri to meet the caterers.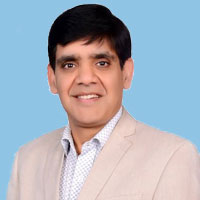 We're committed to bring the best basmati rice for all biryani lovers in Kerala and we were delighted to receive some of the best biryani makers of Calicut to present our finest quality of rice grains. We know the love of Kerala for biryani and how important quality grains are to create a delicious plate full of aroma. Quality is at the core of our entire product range. With 30+years of proven capabilities and expertise to provide our channel partners with superior quality basmati, consistency in supplies is ensured so that same delicious biryani is cooked every time, to meet the ever-increasing demand of biryani lovers through online orders or traditional foodies who like to spend quality time dining out.
Vice President (Rice, Wheat, Grains & Pulses), Olam Agri, India
Our Basmati Brands - True Earth in consumer pack and Heaven's Harvest in big pack was launched for the biryani connoisseurs in Kerala in 2020. Since then Olam Agri has created a strong presence with its superior grains in Calicut, Ernakulam, Trivandrum, Kannur, Kottayam, Malapuram, Trichur and Kottarakara, informed Mr Gupta. Superior extra-long grain of white sella & golden sella basmati provides a consistent cooking experience to chefs/cooks of Hotel Restaurant & Café (HoReCa) segment by offering same taste, aroma and texture with 2-times elongation & keeping regional flavors intact.
Olam Agri offer a complete range of basmati rice variants suitable for biryani delicacies in the Hotel, Restaurant and Catering segment as well as for everyday consumption at home for the biryani lovers in Kerala. Our long aromatic white sella grains are perfect for dum biryani and a variety of biryani recipes - kannur biriyani, malappuram biriyani, ponnani biriyani, kochi kayees biriyani, calicut biriyani, kochi mint biriyani offered by major hotels, restaurants and biryani joints across Kerala, added Mr Gupta.

Mr Miyad, of Arabian Majalis restaurants in Kerala said, "We thank Olam Agri for bringing their best quality rice grains to Calicut, a place famous for the taste and aroma of biryani. With the trend of dining out, cloud kitchen and ordering via delivery apps, managing steady supplies are a challenging task. So we look for reliable partners who can provide quality and seamless supply and are experienced in managing sourcing & supply chain to suit our regular requirements".

Olam Agri is an unrivalled leader in food, feed, and fibre in high-growth emerging markets & keeps a deep understanding of market needs, built through on-the-ground presence in Asia and Africa with a constant commitment to quality at the core.