Olam Agri - Driving
Sustainable Growth

in the Rice

Business
Sustainability | Business & Product
Olam Agri, a leading agribusiness, is a major trader & importer of rice. Olam Agri in Cameroon imports & distributes flagship rice brands including Riz Meme & Bijou, accounting for almost 30% of all rice consumed in the country.
Launch of Riz Bijou Fortifie in the presence of the Minister of Trade, Luc Magloire Mbarga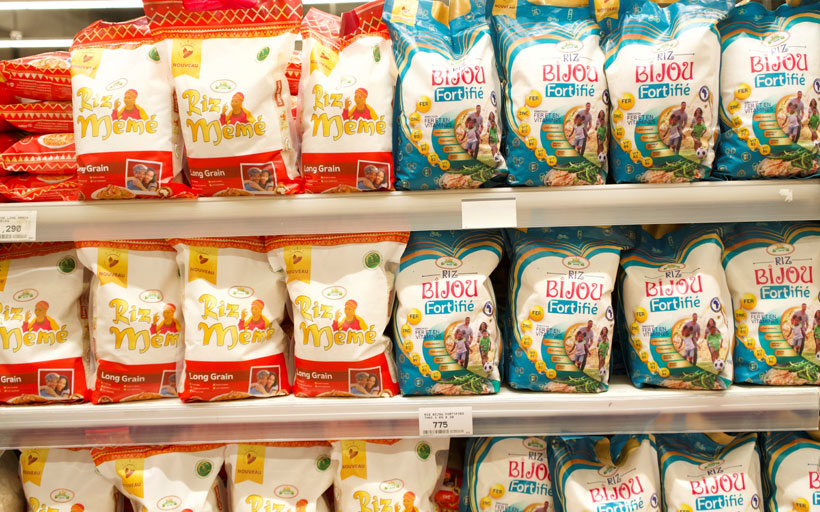 Meme Rice & Bijoux Fortified Rice in supermarkets
The following interview with the Vice President & Business Head for Olam Agri's Rice Business in Cameroon, Mr. Vibhay Singh Chauhan, helps us appraise the company's operations in the rice sector, the active brands, and the benchmarked elements of quality, nutritional value, affordability, continuous availability & competitiveness.
Mr. Vibhay Singh Chauhan -
Vice President & Business Head for Olam Agri's Rice Business in Cameroon
Q1 – Since 1995, Olam Agri has grown into one of the key distributors of rice in Cameroon today. As a market leading agribusiness, how significant & relevant is your rice business in Cameroon? What would you say are the specific achievements of your organisation in Cameroon's food security agenda?

Olam Agri is the top importer of Rice in Cameroon & Africa. We bring in our international expertise of farm-to-fork supply chain integration, sourcing rice from various Asian origins & supplying best quality rice. Over the past 20 years, we have been a key stakeholder in maintaining food security in Cameroon, by ensuring is continuous availability.
In collaboration with the Cameroon government, Olam Agri has been putting in best efforts to maintain higher safety stock of a staple food like rice in the country despite various economic challenges & supply chain disruptions that the world has witnessed in last few years as an aftermath of Covid-19 pandemic & ongoing geo-political situation in Europe.
In terms of convenience & choice, Olam Agri prides itself with a wide range of brands like Riz Meme & Riz Bijou which meeting a range of consumers' needs.

Q2 - For a company that has been leading the way in distributing rice across all 10 regions of the country, what would you say is your key motivation? And secondly, what business edge do you think Olam Agri might enjoy in this area?
We are passionate that every Cameroonian gets a quality rice meal every day. This drive is evident in the way we carry about our business. Olam Agri is the most innovative supplier of rice in the Cameroonian marketplace.  We have set the pace in several aspects of the rice industry – such as our wide range of rice, best-in-class quality & packaging aesthetic.
Our persistence with quality reflects with the appreciation & acceptance that our key brands get. We bring some of the most cherished food brands to Cameroon - like 'Riz Mémé' & 'Riz Bijou', which are enjoyed by many Cameroonian households. We are also the only supplier to introduce Fortified Rice, which is key in responding to the global challenge of micro-nutrient deficiency under the brand name 'Riz Bijou Fortifie'.  
 
Q3 – What are some of your key brands & how do they contribute to the nutritional needs of the Cameroonian consumer?
Our goal as a responsible business has always been to ensure that every Cameroonian from all 10 regions of the country gets a rice of great quality. Our brands have been meticulously adapted to serve the culinary diversity of Cameroon – we have rice that can be cooked for every occasion and recipe. We are proud to supply over 10 different rice varieties that respond to the diverse nutritional needs of the Cameroonian people. Amongst these brands is our fragrant rice range comprising of the popular Riz Mémé Cassé, Riz Mémé Long Grain, Riz Bijou Gold, Royal Feast Everyday & Royal Feast Yélélé which remain at the heart of consumer's preference. Our white rice range is led by the outstanding Riz Bijou Classic, one of the country's oldest & most cherished rice brands. Our other range of brands include Lune d'Afrique, Mains Dans La Main, Akadi, Marori Benz & Champion. Riz Bijou Fortifié is the most recent addition to this list of white rice brands introduced in response to a deeper nutritional need of the consumer – which is the first-of-its-kind innovation in staple rice segment in Cameroon.   

Q4 – What motivated your organisation to introduce fortified rice in a market where all other distributors are focusing on just providing the basics?
According to the World Food Program, nearly half of Cameroonians cannot afford a diet that meets their nutritional needs & about 24% cannot afford a diet that meets their daily energy needs. According to the Ministry of Public Health, Anemia has become a major health problem in Cameroon with children & women impacted the most. Deficiency in iron alongside other minerals like folic acid is the principal cause of Anemia. Thus, fortifying staple food categories like rice, flour, oils etc. is critical in addressing this nutritional gap.
Looking at fortified rice in general, it is a response to the global challenge of micronutrient deficiency (Hidden Hunger) to which Cameroon isn't an exception. Here at Olam Agri, we pride ourselves in innovation, collaboration & sustainability which are a few of the core values we uphold, thereby motivating us to research & find solutions to assist the Cameroonian population lead healthier daily lives.
With the launch of Cameroon's first fortified rice, our commitment towards food security stretches beyond best quality, continuous availability & affordability to provide rice with best nutritional value in the day-to-day lives of our consumers. We believe in the huge potential of rice in the fight against hidden hunger & have been working over the past few years to develop a fortified rice that provides all essential micronutrients through multiple efforts with some of the best partners in the industry.

Q5 – Can you briefly outline the most prohibitive barriers to a blossoming rice industry & how is Olam Agri circumventing these barriers? And in what way does the Covid-19 & geo-political situation in Eurozone affect rice supply in Cameroon in general & your business in particular?
Covid-19 pandemic & the geo-political situation in Europe has put strain on global economies & supply chains. The impact has been witnessed across the world & over wide range of consumer segments. The impact on Cameroon Rice business has been equally evident with cost inflations at all levels of supply chain – commodity costs, freights, packaging costs etc. Post covid-19, for example, many ports across Asia were shut or have been operating at reduced efficiencies due to lack of resources or respective government mandated protocols.  While the supply chains were easing from the impact of global pandemic, geo-political situation in Eurozone caused further disruption in global trade flows, resulting in cost escalations.
Despite all these challenges, we at Olam Agri have been consistently living up to our primary goal of ensuring food security in Cameroon & have been able to consistently import ample quantity of rice – leveraging our global trading, origination & supply chain expertise. We also thank Government of Cameroon and Ministry of Trade for their consistent support for us to meet the safety stock & food security requirements in Cameroon.