Providing Access to
Clean Drinking Water

in Satikran, Côte d'Ivoire
Sustainability
In the small village of Satikran, located about 30 km from Abengourou in the sub-prefecture of Aniassué, life is changing for the better. Olam Agri's rubber business in Côte d'Ivoire – Société Agro-Industrielle de la Comoé (SAIC) – has donated a solar water pump to the village, bringing access to clean drinking water to more than 12,000 inhabitants.
The donation is part of the Nassey program, which means "Thank You" in the local dialect and aims to show our appreciation and commitment to social development for rural communities. The solar-powered water pump will provide the community with safe and clean drinking water, something they have long struggled to access.
The donation, which was made in time for World Water Day, had Augustin Apetey, Deputy Managing Director of SAIC, expressing his joy at the pump's impact on the community saying, "What a relief for our mothers, sisters, and daughters! So many lives to change!"
The pump is capable of delivering clean drinking water a flow rate of 18m3 with two fountains, providing enough water to supply the 12,000 inhabitants living in the village of Satikran and its surrounding community. Children no longer need to walk long distances to fetch water and can instead focus on attending school, while women can also now focus on farming and income generating activities.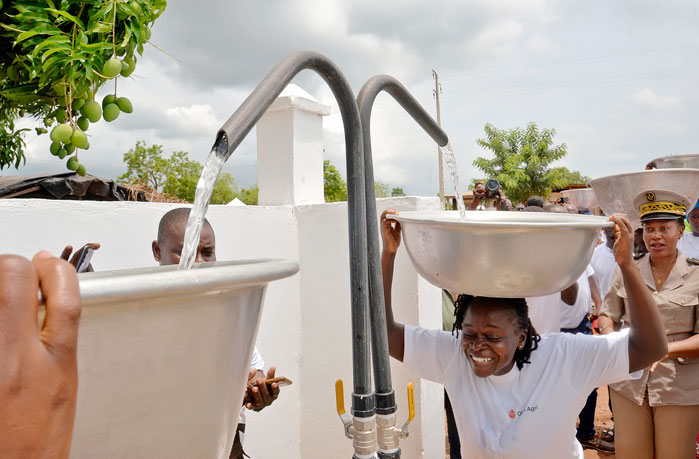 The donation of the solar water pump is the latest in a long line of social initiatives that Olam Agri has undertaken in the region. Since 2017, the Nassey programme has rewarded the best students in Aniassué, Azaguié, and Diamarakro with school kits, bags, and laptops. The programme has also provided tricycles for removing rubbish in the village of Aniassué and conducted awareness campaigns on breastfeeding and nutrition, benefiting more than 250 mothers, girls, and grandmothers.

Now, with the addition of the solar power pump, the community of Satikran will enjoy a new lease of life with a reliable source of clean and safe water free of waterborne diseases.