Olam Agri

Marks Cervical Cancer Month with Free Screening
Sustainability
Ghana
Olam Agri, a global leader in agri-commodity and food processing, has organized free PAP tests for female employees across various locations within the organization, in collaboration with its female network group, GROW (Globally Reaching Olam Women), to mark this year's Cervical Cancer Awareness Month.
Cervical cancer is a disease in which cancer cells arise in the cervix, connecting the uterus to the vagina and according to the United Nations, the second most common cause of cancer-related deaths in reproductive-aged women globally.According to WHO estimates, a woman dies every two seconds from cervical cancer and in Ghana, it'sreported as the leading cause of gynecological deaths although the disease is curable when diagnosed and treated early. Instituted by the World Health Organisation, Cervical Cancer Awareness month is observed globally every year in January.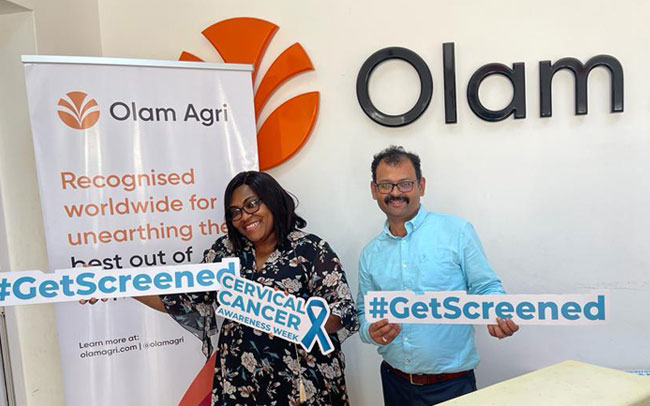 As part of Olam Agri's commitment to promoting health and wellness among its employees, the company is offering screening and testing, alongside a weeklong programme of information sharing and sensitization to raise awareness and maximize education on cervical cancer and its impact on female reproductive health. The programme includes expert presentations and interaction with medical professionals on topics related to cervical cancer and the importance of its treatment and prevention.

Mr. Stephen Adeakye, Head of Human Resources at Olam Agri in Ghana, encouraged all female employees to take advantage of this initiative to check for any signs of cervical cancer and seek treatment as soon as possible.
"Cervical cancer poses a dangerous risk to health of women, and we've taken up the challenge to raise awareness, provide support and to encourage our female employees to take care of their health." Mr. Adeakye said.
Mrs. Christiana Asare, President of GROW Ghana said, "Our association aims to promote healthy living among females within the organization, and we believe that this is the right time to have an open conversation about cervical cancer and its impact on our reproductive health. We want to show solidarity to help those whose lives are impacted and provide the necessary education to female employees to help fight the disease."

GROW is a voluntary association of female employees of Olam's worldwide operations whose core mission is to increase female engagement and foster inclusiveness within the organization.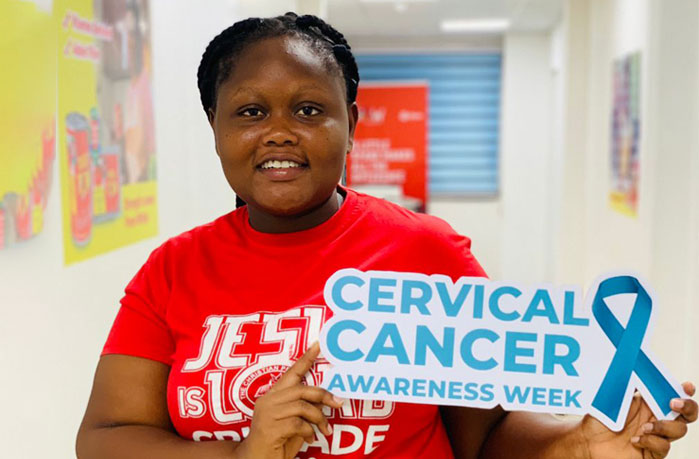 The association, since its inception in 2018, has helped increase engagement among females in the organization through various initiatives such as mentorship programs, community networking and donations to various hospitals, including the Cancer Unit at Korle Bu, and other important personal development initiatives such as the Sparkle Your Career Program, which was launched last year to help boost the confidence of female employees to seek growth in their career paths.